Kelli & Kellen met on OkCupid, and when they realized they had such similar names (Kellen Michael + Kelli Michelle) it seemed obvious they were destined to meet. Destiny didn't stop there.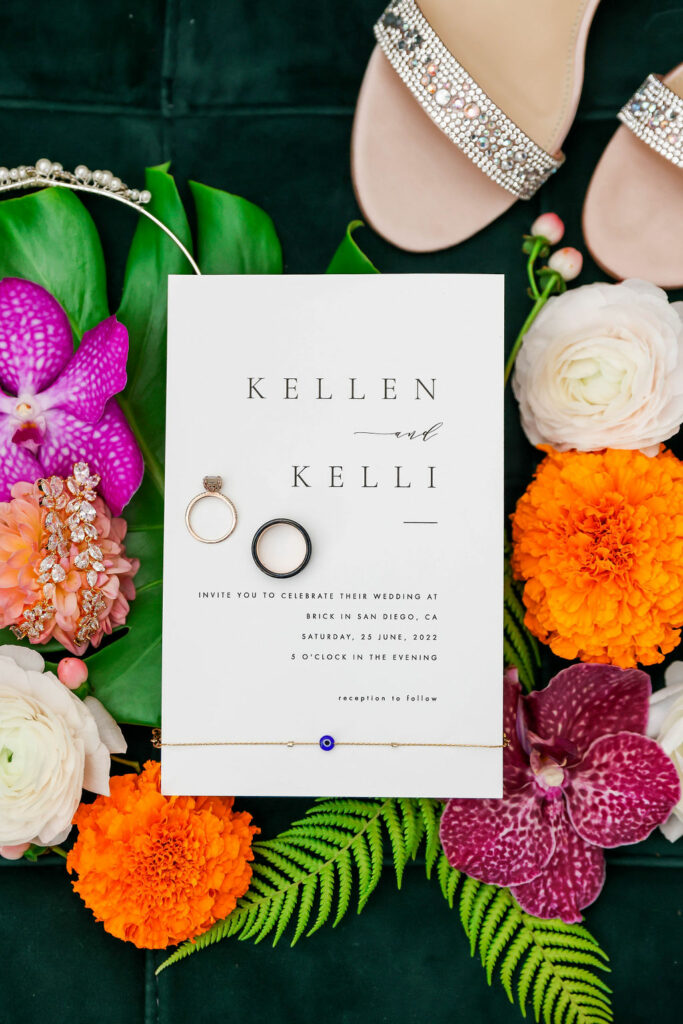 Later in their relationship, Kelli took it upon herself to move into Kellen's apartment — without telling him. It was unexpected, but resulted in them growing their relationship, traveling the world together, and at one point selling everything they owned, adopting 3 dogs and moving to Bali.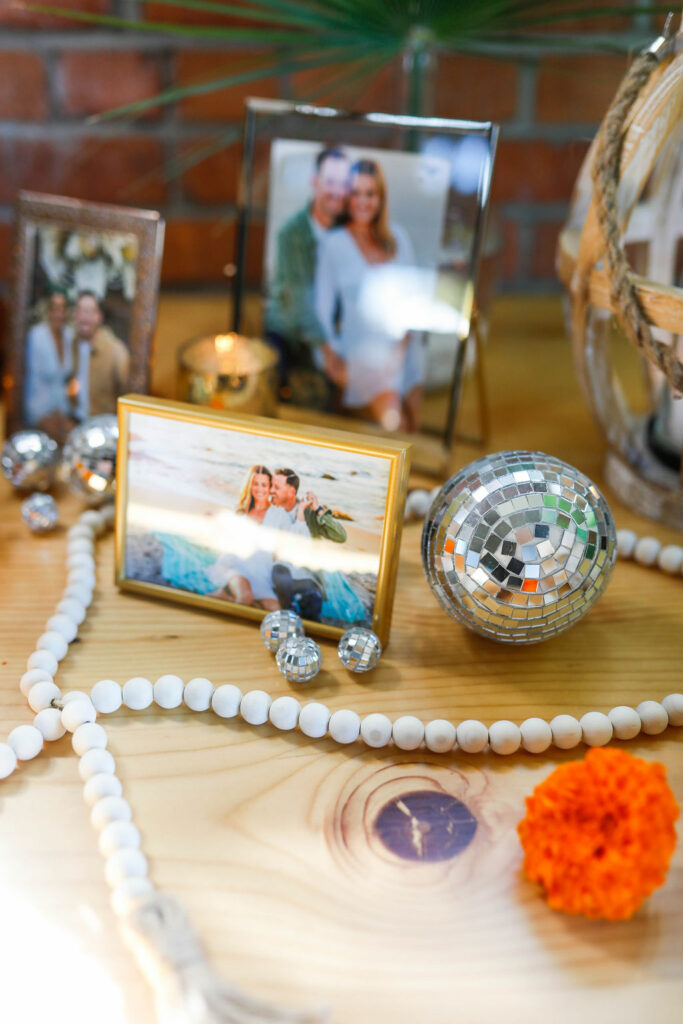 After living in Bali for two years and getting to know the people and the beautiful Balinese Hindu faith, Kelli & Kellen envisioned their wedding to resemble their favorite time together as a couple.
A beach club on Bali called "Potato Head" and the Balinese culture influenced their "Tropical Disco" themed wedding, which captured everything they knew and loved from their time together in Bali.
On their wedding day, BRICK was filled with bright blooms with an abundant amount of greenery. Decor pieces included baskets, rattan fixtures, Indonesian inspired umbrellas, "Evil Eyes", disco balls and more.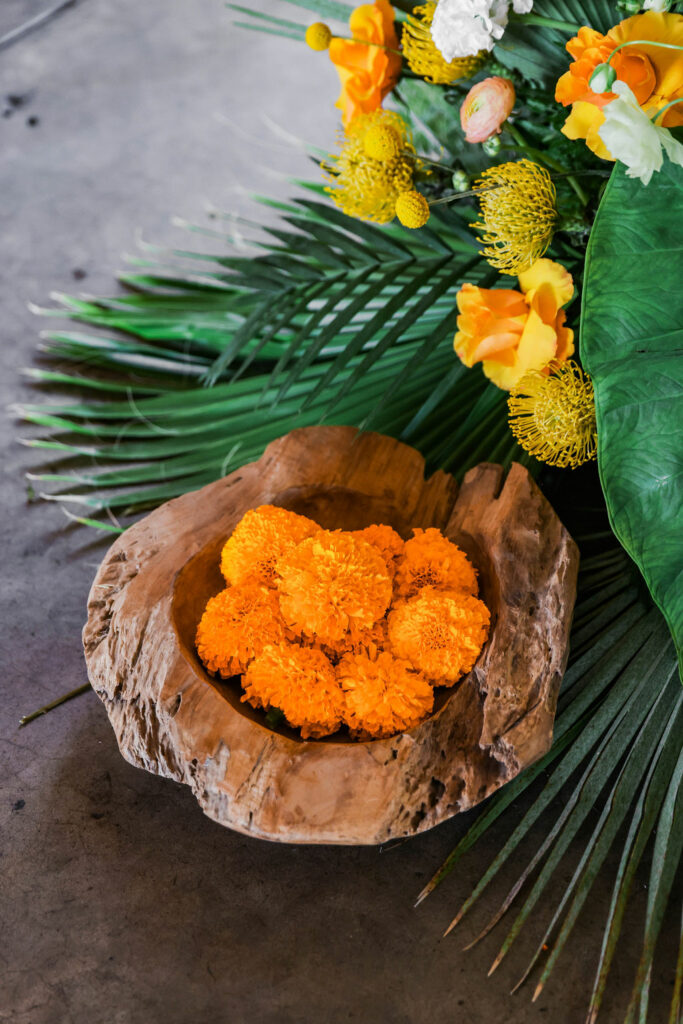 Bali Marigold flowers filled the space, as the couple learned in Bali that the flower symbolized producing joy, light, and a reminder to see the light in others.
During the ceremony, each guest received their own marigold and was asked by the officiant to make a wish into their flower for the couple blessing their marriage full of light and happiness. After the ceremony, the marigolds were repurposed for the reception to say "Let's Party" to get guests excited for an amazing night to come.
At the bar, guests were able to choose from two signature cocktails inspired from their favorite "Potato Head" bar!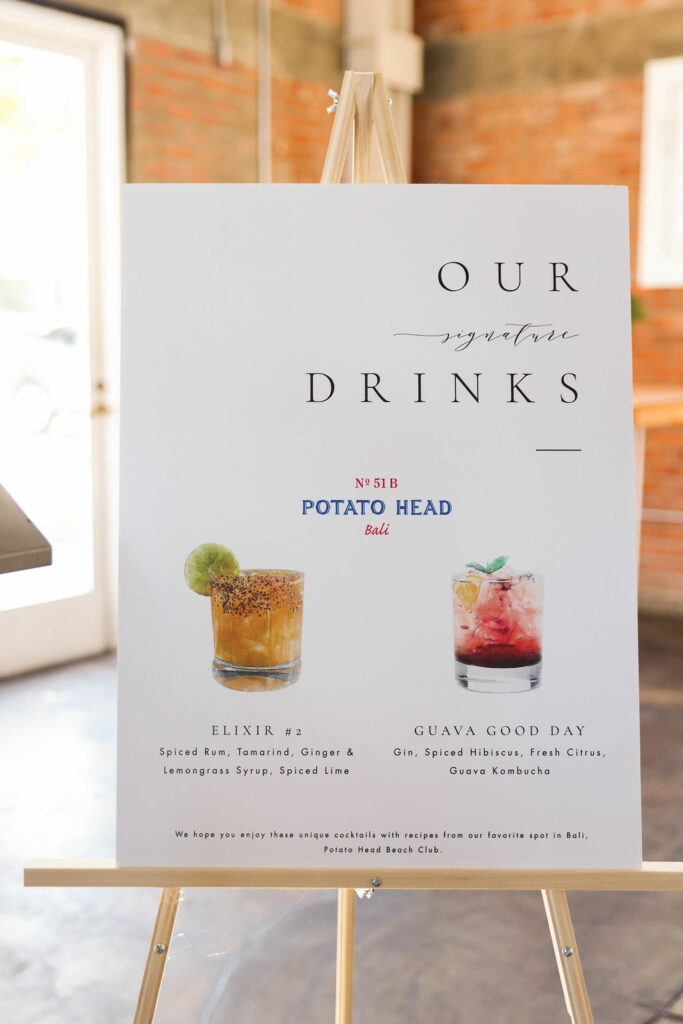 After the Mother-Son Dance, the bride requested in advance for the Coordinator/DJ to announce that a random "special song request" was made. Guests and the Groom were curious as to what was going on, as the song "Your Song" by Elton John played continuously, only to find out the special request was actually made by the bride herself.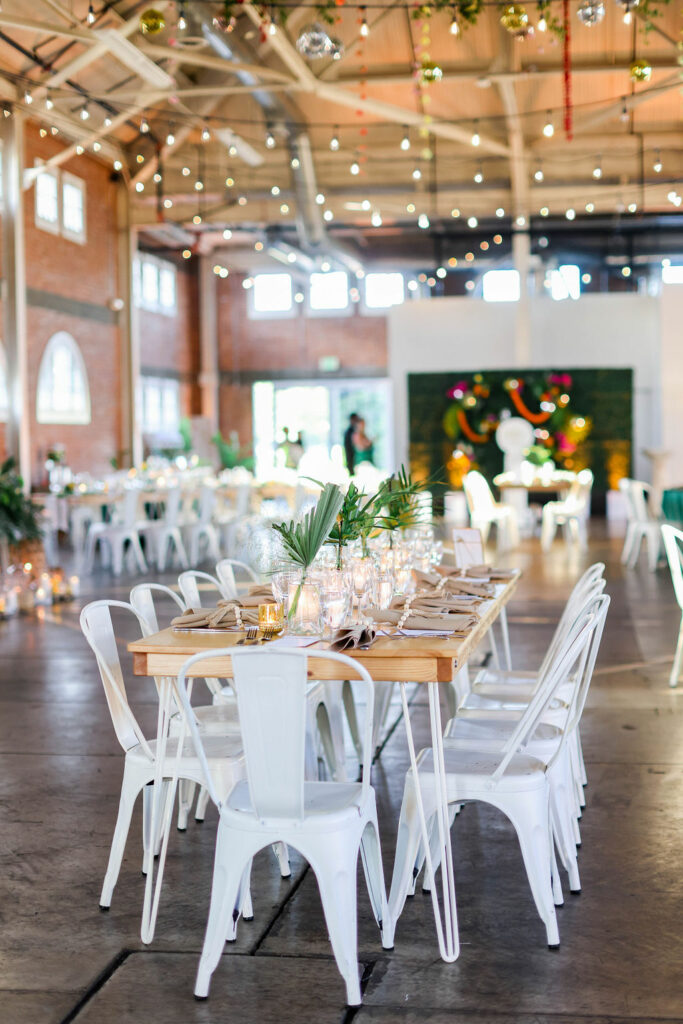 Kelli planned this surprise to ask the Father of the Groom to share a Father-Daughter dance with her. She played it off so well that no one had any idea what was going on, but all were pleasantly surprised! Kelli was very close with her in-laws, and it was important for her to share that love and appreciation for their relationship.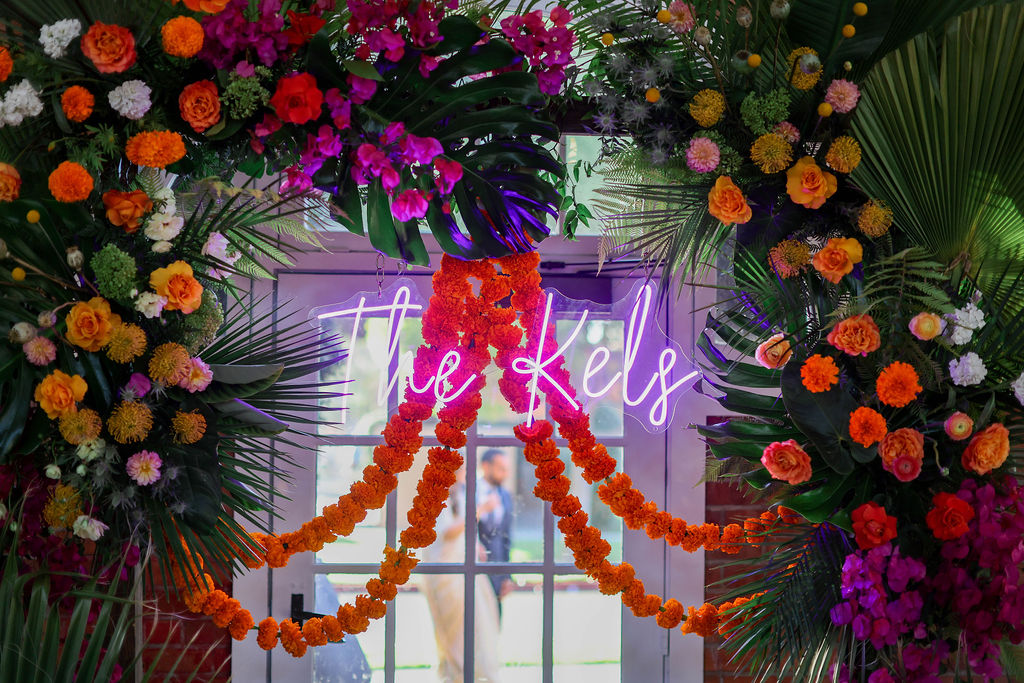 To make the room feel more like a nightclub, disco balls of various sizes, neon lights, strobe lights, and haze machines were brought in to set the tone for a fun filled night. A gorgeous champagne tower display was set up by the florist, filled with bright blooms, lights, disco balls, and of course, a bottle of Veuve Clicquot champagne!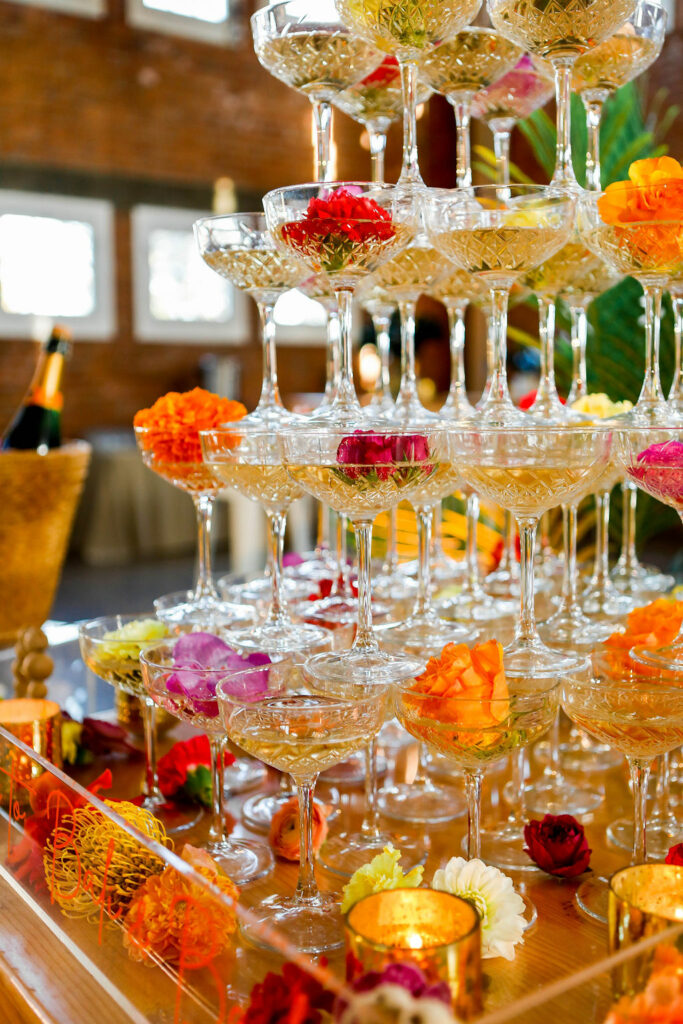 Once the couple poured and toasted together, the dance lights came on and it was time to PARTY!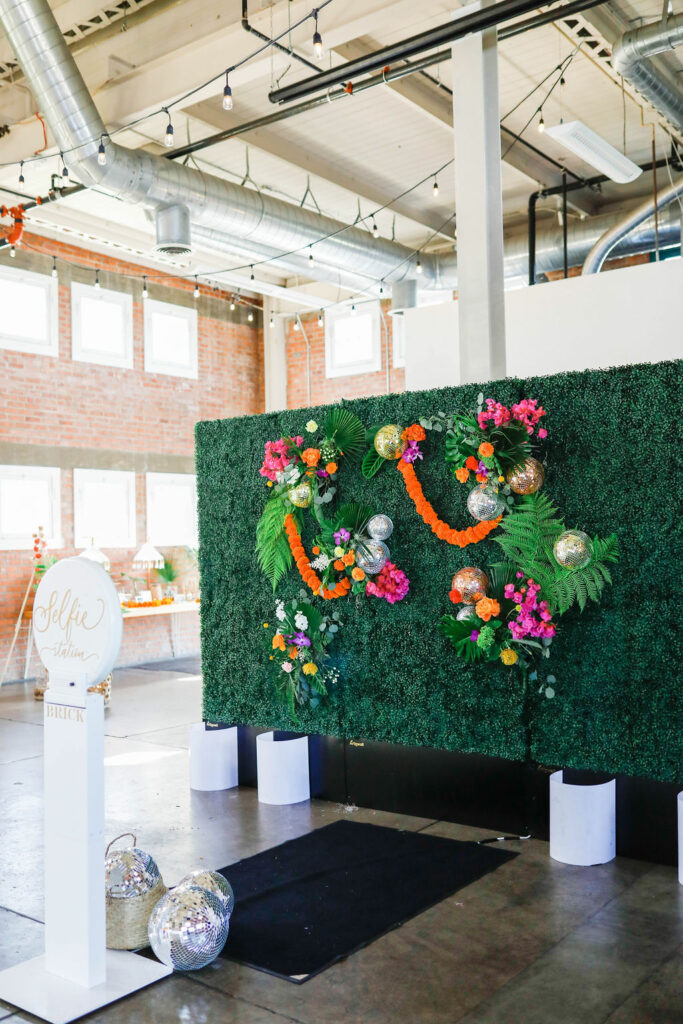 Earlier in the day, Kelli had surprised Kellen with matching lit up disco ball headpieces with plans to wear them later into the night. After a couple of drinks and a second dress change, the couple threw on their matching head pieces and danced the night away together.
Overall, Kelli & Kellen's wedding was truly a beautiful celebration, and gave guests the opportunity to let their hair loose and spend time with a gorgeous and fun loving couple!
Venue + Beverage + Photo Booth: BRICK
Planning: BRICK Planning + Lindsay McClure
Florals & Champagne Tower: Bottles & Blooms
Rentals: Cedar & Pine Rentals
Specialty Rentals: Con Amor Rentals
Photographer: Sarah Block Photography
Videographer: AAH Visuals
Catering: ArtQuest Catering
DJ: Dart Collective
Musician: Music by Roderick Chambers
Desserts: Sugar Buzz
Officiant: Bethel Nathan – Ceremonies by Bethel
Glam: Mobile Beauty Team