There are many great Christmas party venues in San Diego. Whether you're hosting a smaller gathering or large event, there are several things to consider: Do you have a party theme? Is both indoor and outdoor space a necessity? What type of backdrop or aesthetic would work best?
BRICK is a top venue in San Diego for a corporate holiday party, but we understand that it may not be the best fit for all organizations. Factors such as size, budget, location and availability are all important details to consider when looking at venues for rent in San Diego.
Need some inspiration before looking at San Diego holiday party venues? We've compiled a list of several unique idea for your San Diego holiday party, combining the best parts of the city and season.
We understand that throwing a holiday party is not an easy task, so we are here to help you find the perfect space to loft everyone into the holiday mood. And what's great about San Diego is that you can enjoy an outdoor and indoor party.
While we want everyone to experience the season's magic at BRICK, we're most concerned with helping you find the best fit for your group. Here are nine great recommendations for San Diego venues.
Ultimate Skybox at DiamondView Tower
Located on the top floor of a high-rise building in Downtown San Diego, The Ultimate Skybox is a unique event space offering panoramic views of the city's skyline, Petco Park, and the San Diego Bay.
Skybox's sleek and stylish event-ready space offers an open floor plan with a full-service bar and outdoor patio; everything you need for a holiday gathering.
You can work with their event staff to customize the space to meet your specific needs, however, you do have to choose from a list of their required caterers. The Ultimate Skybox is an ideal choice if you want a low-maintenance event space for your annual holiday party in the heart of San Diego.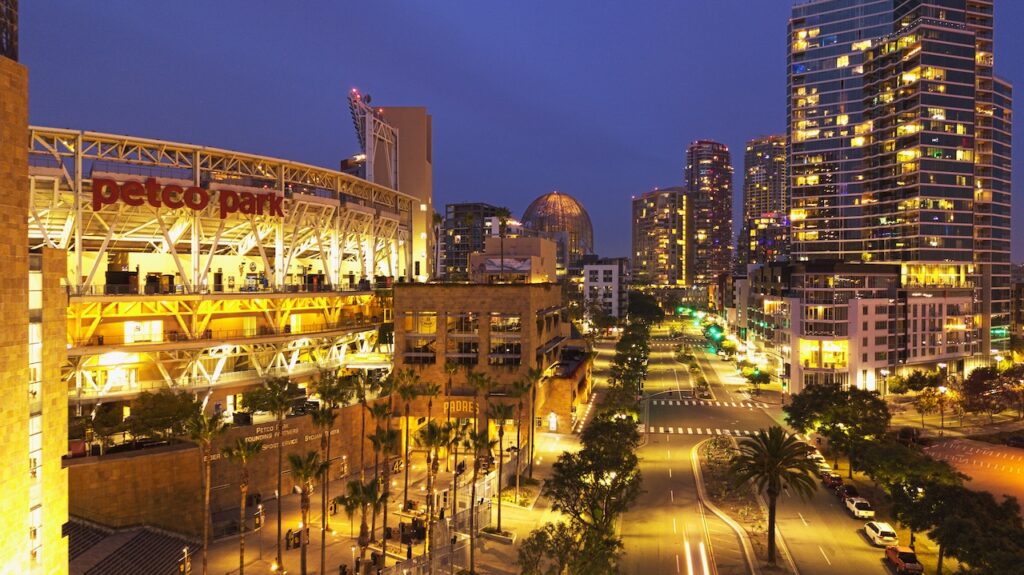 San Diego Zoo
Every holiday season, the San Diego zoo is transformed into a magical wonderland full of dazzling lights, special animal encounters, and festive entertainment.
The annual "Jungle Bells" event runs from early December through the new year, and is a perfect way to celebrate the season with your colleagues. Enjoy live entertainment, some tasty treats, and wrap up the evening with a catered meal in one of the zoo's private event spaces.
The staff can even arrange a special appearance by one of the zoo's animals at your event!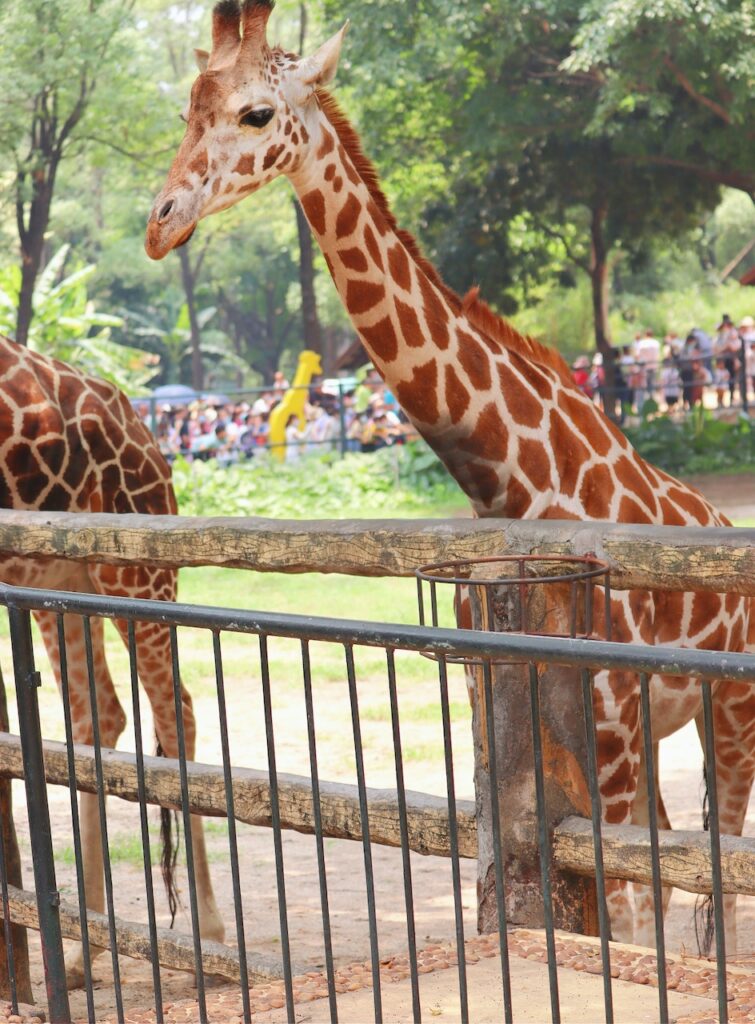 BRICK
Hey, that's us!
BRICK has been one of San Diego's most popular holiday party venues for rent since we first opened, so we wouldn't be sharing a list of the best Christmas party venues to rent in Denver without including our versatile space.
BRICK is one of the only venue spaces in the historic Liberty Station. Just minutes from the San Diego airport, and surrounded by restaurants and shops, it is the perfect location for any event.
Our blank canvas space features vaulted ceilings, red brick walls, ample natural light, and beautiful market lighting. With our industrial design and bring-your-own-vendor policy, BRICK is the ideal space for everything from a low-key day party or formal gala.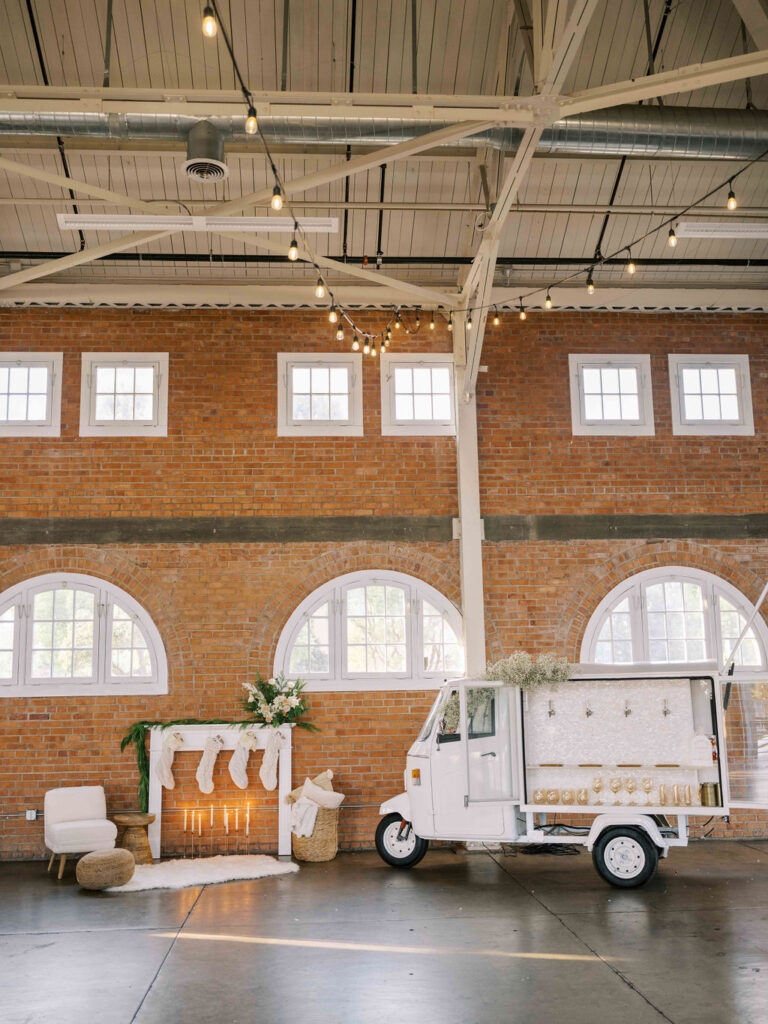 Our space can accommodate up to 220 guests for a seated dinner, and even more for a cocktail party. Need some assistance with planning your event, or maybe you want to come up with an epic signature cocktail? Work with our in-house event planning team and BRICK Beverage to create a perfectly paired experience.
Looking for a venue for another event? BRICK hosts all types of celebrations including weddings, milestone birthday parties, meetings and more.
The Prado at Balboa Park
Experience the holiday magic in Balboa Park with stunning light displays, live performances, and festive decorations.
Located in the heart of Balboa Park, The Prado offers a beautiful and historic setting for your holiday party. The venue features elegant indoor and outdoor spaces, delectable cuisine, and impeccable service.
Prefer something more casual? Bring your team to one of the many public events within the park during the holiday season. Options include:
December Nights: This annual event transforms Balboa Park into a winter wonderland, complete with holiday light displays, live music, food vendors, and entertainment. It's a great opportunity to get your colleagues in the holiday spirit while enjoying the park's beautiful scenery.
Holiday Exhibitions: Many of the museums and cultural institutions in Balboa Park host holiday-themed exhibitions throughout the season. From festive art displays to performances, there's something for everyone to enjoy.
The Garden of Lights: Balboa Park's Botanical Building is adorned with thousands of twinkling lights during the holiday season. The outdoor garden is perfect for a pre-dinner stroll with your coworkers.
Holiday Performances: The Old Globe Theatre, located within the park, often puts on special productions during this time. From classics like "A Christmas Carol" to more modern performances, there's no shortage of theater magic to experience.
No matter which route you choose, a party at Balboa Park is sure to put everyone in the holiday spirit.
Hotel del Coronado
The island of Coronado is a huge draw for locals and tourists alike. Treating your team to a beachfront holiday party is bound to be one they won't soon forget.
The iconic beachfront Hotel del Coronado is transformed into a winter wonderland each season, complete with an ice rink, festive decor, and even a holiday village. With the option to host an event right on the beach, or within the hotel, this is one of the most unique venues in San Diego.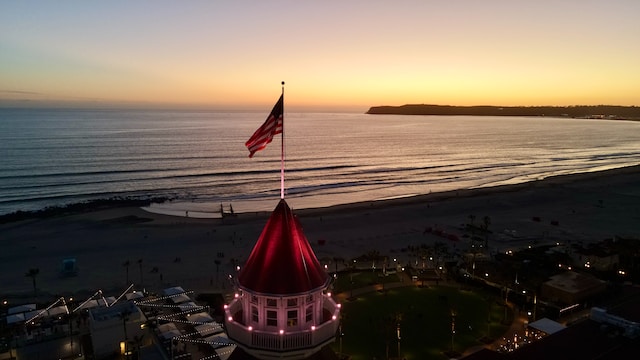 Prefer to attend a pre-planned event? Purchase tickets for Skating by the Sea or the Frostbite Lounge, and allow your team to bring their families along.
Whether you plan to host a casual day party or formal nighttime affair, the Hotel del Coronado has great options to get the party started for every group.
Kettner Exchange in Little Italy
Take advantage of the year-round warmth, and treat your team to a holiday celebration at Kettner Exchange, an open-air rooftop located in San Diego's Little Italy neighborhood.
Kettner Exchange has the only private cabanas and ocean views in the neighborhood, and can host standing parties of up to 400. The decadent cuisine is sure to impress your colleagues, and the views of this vibrant neighborhood create the perfect urban party backdrop.
Hosting a smaller group? Consider bringing your team to the more private Chef's Table for a unique five-course dining experience.
Go "Under The Sea" at Birch Aquarium
Host a holiday "under the sea" at Birch Aquarium. Located near La Jolla shores with dramatic ocean views, Birch Aquarium is an engaging venue for a holiday party in San Diego.
Explore the underwater wonders with your team, and enjoy special holiday-themed activities. 
Work with one of the aquarium's preferred caterers to accommodate a private dining experience, and really get the party started with a DJ.
If you're looking for an unexpected, yet one of the best San Diego experiences to share with your colleagues, the Birch Aquarium is a great option.
Dinner, Lounge and Cookie Decorating in Old Town San Diego
Want a hands-off Christmas party in San Diego? Work with So Diego to experience a family-style meal at a surprise venue fit for Santa and his elves!
After dinner, you'll sip a craft cocktail before heading to a second surprise venue in the Gaslamp Quarter, where your teammates will be able to grab another drink and start decorating holiday cookies.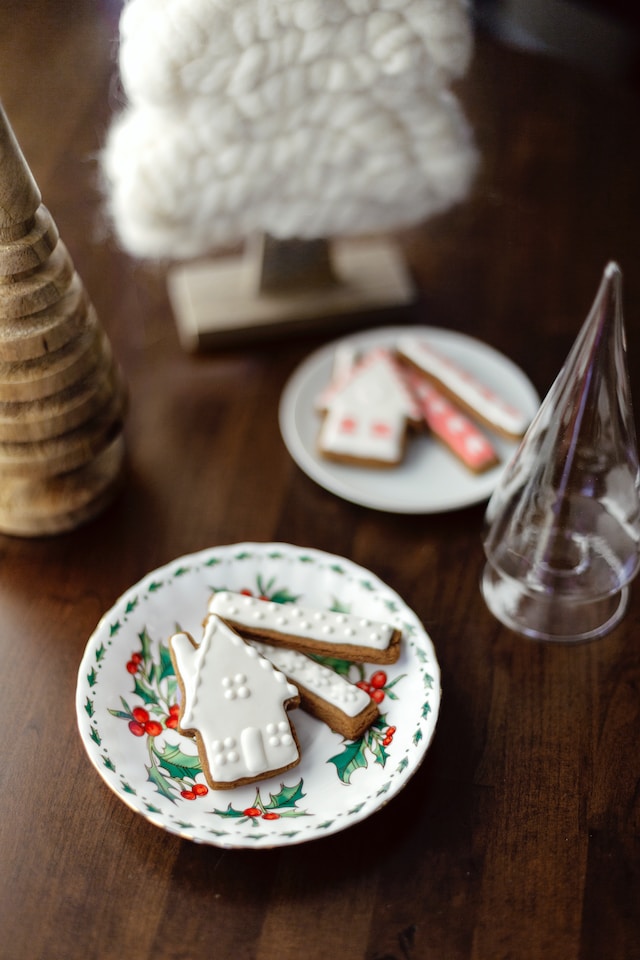 Step back in time and bring your team to enjoy the holiday decorations, traditional carolers, and festive events in this historic neighborhood.
The Headquarters at Seaport
This waterfront lifestyle center is certainly one of the most unique San Diego party venues. Formerly the headquarters of the San Diego Police Department, the Headquarters at Seaport offers a stunning backdrop for your party.
A variety of event spaces overlooking the San Diego Bay are available for your team to celebrate the season. Rent a private space in popular restaurants such as Puesto & Eddie V's, and explore the original 5-by-8-foot inmate jail cells, historic photos and police memorabilia on public display with your team members.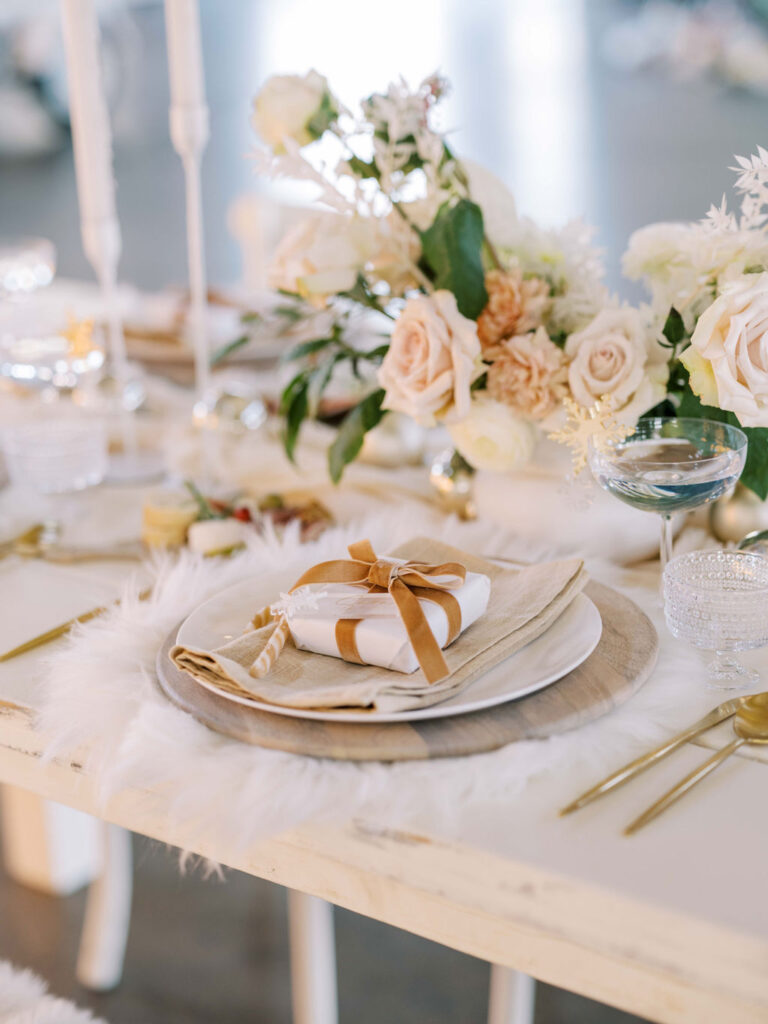 Book Your San Diego Holiday Event Space Today
No matter what type of party you want to host, BRICK is one of the best San Diego venues made for convenient celebrations. BRICK's open space can easily fit your guests, along with a DJ and photo booth, inviting corn hole games, and more.
Contact our team today to learn how BRICK can provide a custom indoor and outdoor experience for your next event.